UMKC is hosting the annual Electronics Recycling Event on campus located at 51st and Troost on Saturday, March 18, 2017 between the hours of 9am to 1pm.  Surplus Exchange is the certified e-Stewards, which is the globally responsible way to recycle your electronics.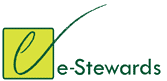 Our partners on the event include Southtown Council, MainCor, Pizza 51, Consantino's Price Chopper and Bledsoe Rentals.  Here are 
Items The Surplus Exchange Accepts 2017 of what you can bring to recycle
Happy Recycling!!!